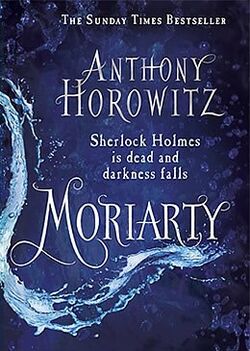 Moriarty is a book by Anthony Horowitz and was published in December 2014.
This mystery from the bestselling author of The House of Silk was sanctioned by the Arthur Conan Doyle estate and explores what really happened when Sherlock Holmes and his arch nemesis Professor Moriarty tumbled to their doom at the Reichenbach Falls.
Summary
Days after Sherlock Holmes and Moriarty's fateful struggle at the Reichenbach Falls, Pinkerton detective agent Frederick Chase arrives in Europe from New York. Moriarty's death has left an immediate, poisonous vacuum in the criminal underworld, and there is no shortage of candidates to take his place—including one particularly fiendish criminal mastermind.
Chase and Scotland Yard Inspector Athelney Jones, a devoted student of Holmes's methods of investigation and deduction originally introduced by Conan Doyle in "The Sign of the Four", must forge a path through the darkest corners of England's capital—from the elegant squares of Mayfair to the shadowy wharfs and alleyways of the London Docks—in pursuit of this sinister figure, a man much feared but seldom seen, who is determined to stake his claim as Moriarty's successor.
Community content is available under
CC-BY-SA
unless otherwise noted.