There are many museums dedicated to Sherlock Holmes, located in various places both in London and around the world.
During the 1951 Festival of Britain, Sherlock Holmes' sitting-room was reconstructed as the centrepiece of a Sherlock Holmes Exhibition, displaying a unique collection of original material.
After the 1951 exhibition closed, items were transferred to the Sherlock Holmes Pub, in London, and to the Sherlock Holmes Museum in Lucens (Switzerland). Both exhibitions, each including its own very good Baker Street Sitting-Room reconstruction, are still to be seen today.
More recent Sherlock Holmes Museums (complete with sitting-room) were opened in Baker Street itself (London) and in Meiringen (Switzerland), but those include less historical material about Conan Doyle.
Sherlock Holmes Museum (London)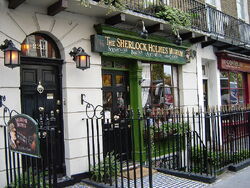 In London, 221B Baker Street is a museum which shows Holmes' home as depicted in the stories, with the deerstalker on display in the bedroom and sitting room. Many fans and tourists visit every year.
At the time the Holmes stories were published, addresses in Baker Street did not go as high as 221. Baker Street was later extended, and in 1932 the Abbey National Building Society moved into premises at 219–229 Baker Street. For many years, Abbey National employed a full-time secretary to answer mail addressed to Sherlock Holmes. In 1990, a blue plaque signifying 221B Baker Street was installed at the Sherlock Holmes Museum, situated elsewhere on the same block, and there followed a 15-year dispute between Abbey National and the Holmes Museum for the right to receive mail addressed to 221B Baker Street. Since the closure of Abbey House in 2005, ownership of the address by the Holmes Museum has not been challenged, despite its location between 237 and 241 Baker Street.
See also