Pentonville Prison is a large men's prison with a capacity of 1250 and was opened in 1842. Pentonville Prison is not actually within Pentonville itself, but is located further north, on the Caledonian Road in the Barnsbury area of the London Borough of Islington, in inner-North London, England. It is today a Category B/C prison, in other words not maximum security, but still high security at least in parts.
Pentonville appears in the episode, "The Reichenbach Fall" when Jim Moriarty unlocks all the cells and opens the vault at the Bank of England via his mobile phone, whilst simultaneously breaking into the case where the Crown Jewels are kept (in the Tower of London).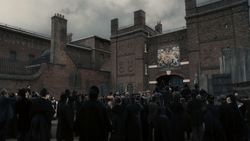 Lord Henry Blackwood was incarcerated here after his arrest in St Paul's catacombs. It was later the scene of his execution by hanging, after which he was taken to a crypt in Brompton Cemetery for burial.
External links