Piccadilly Circus is a road junction and public space of London's West End in the City of Westminster, built in 1819 to connect Regent Street with the major shopping street of Piccadilly.
Piccadilly Circus is surrounded by several major tourist attractions, including the Shaftesbury Memorial, Criterion Theatre, London Pavilion and several major retail stores. Numerous nightclubs and bars are located in the area and neighbouring Soho, including the former Chinawhite club.
At the southwestern side of the Circus, moved after World War II from its original position in the centre, stands the Shaftesbury Monument Memorial Fountain, erected in 1892-1893 to commemorate the philanthropic works of Lord Shaftesbury, who was a famous Victorian politician and philanthropist.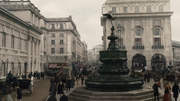 Picadilly Circus is a public square located at the junction of several large roads in the West End of London. In the center is a large monument depicting the god of requited love. The Grand Hotel is located on the south side of the square.
Trivia
The building on the south side of the square is actually the Lillywhites' store, and is much larger and more ornate than the building that appears in the film. The exterior shots of the Grand Hotel were filmed at the Old Royal Naval Collage in Greenwich.
It appears in the "The Great Game" as the public location of the bomber's second hostage used to communicate with Sherlock Holmes. It also appears in the opening sequence of all three series of Sherlock.
Community content is available under
CC-BY-SA
unless otherwise noted.