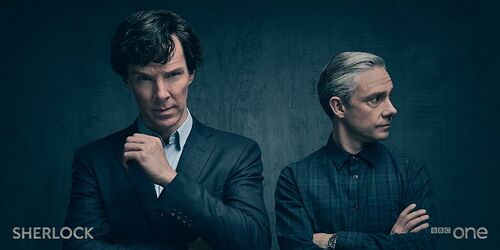 This is the main page for everything related to BBC's 2010 TV series, Sherlock, starring Benedict Cumberbatch as Sherlock Holmes and Martin Freeman as Dr. John Watson. These two roles are the main character in the Sherlock. This page is designed to make navigating your way around the sections of this wiki easier.
Warning: Our content is updated as soon as material is released. There will be spoilers on most pages without individual warnings.

Episodes • Cast • Locations • Props & Costumes • Music
Related Websites • Tie-In Websites • Timeline
Question:
ok, here is question that has always bothered me and I want to clarify this query!
Q: Does …
I'm having a bit of trouble I have no idea how to change photos on actors pages. I want to update t…
Hi, this is Taylor speaking. I've got some questions about BBC Sherlock, because well, I'm in sixth…
See more >

Not sure where to start?
Adding content:
Check out the list of Wanted Pages to see what pages are linked to but do not yet exist.
Want to help editing pages we're stuck on? See a full list of stubs here.
Before creating a new page, check to see if the same page with a slightly different spelling or title exists.
When editing on a page make sure there are links on the page, otherwise it's a Deadend Page.
Make sure other pages link to the page you're editing otherwise it's a Lonely Page.
You might also want to check out our Manual of Style - we're in the process of writing this so check it out and have your say about how Baker Street should look!