Sherlock Holmes Baffled

Title Card Added for later Public Domain prints.
Film information

Directed by

Arthur Marvin

Cinematography

Arthur Marvin

Distributed by

American Mutoscope and Biograph Company

Release Date(s)

1900 (US)
1903 (re-release)
Sherlock Holmes Baffled
 is a 30-second motion picture originally released for arcade amusement mutoscope machines in 1900 and later copyrighted in 1903.
This 30-second film is officially the earliest known film to feature the literary character of Sherlock Holmes, as well as the earliest known mystery movie.
Plot
Sherlock Holmes tries everything he can to prevent his home from being burgled by a mysterious figure, but remains increasingly baffled with the situation when things start to disappear and so does the mysterious burglar.
Cast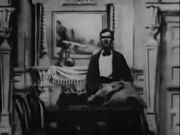 Anonymous actor as Sherlock Holmes
Another unknown actor as disappearing burglar
Allusions
Despite the plot clearly not being inspired by any of Sir Arthur Conan Doyle's written works, there are quite a few of them in which he encounters burglars who disappear, though mostly Holmes always deuces very quickly that it was the trick.
Similarly a plot point of someone being able and brave enough to break into Holmes own house was used in a few original stories including "The Man with the Twisted Lip".
Holmes costume and appearance was based on how Holmes was portrayed by William Gillette in theatre plays starting in 1899 which were a smash hit at the time.[citation needed]
In A Scandal in Belgravia, a first episode of second season of Sherlock one of Watson's blog posts covering a rare unsolved case in Holmes' career is named "Sherlock Holmes Baffled."[1]
Trivia
Video
External links
References