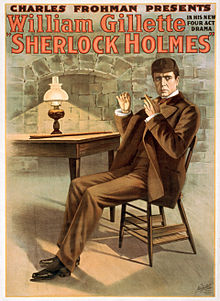 There have been numerous Sherlock Holmes theatrical adaptations over the years, both whilst the stories where still being published and since.
Notable theatrical adaptations
1894: John Webb is the first actor to portray Sherlock Holmes, in a play written by Charles Rodgers.
1899: William Gillette and Sir Arthur Conan Doyle wrote a four-act called Sherlock Holmes, with Gillette also taking the title role. He was perhaps the actor most associated with Holmes on stage and his version of Holmes, dressed in deerstalker hat and Inverness cape and smoking a large curved calabash pipe, contributed much to the popular image of the character.
1905: In Langdon McCormick's 1905 play, The Burglar and the Lady, Holmes is pitted against the fictional criminal A. J. Raffles, created by E. W. Hornung.
1965: Baker Street is a musical written by Jerome Coopersmith with music and lyrics by Marian Grudeff and Raymond Jessel. It was loosely based on A Scandal in Bohemia.
1987: Sherlock's Last Case by Charles Marowitz ran on Broadway and starred Frank Langella.
1988: The Secret of Sherlock Holmes by Jeremy Paul starred Jeremy Brett and Edward Hardwicke, reprising their television roles as Holmes and Watson.
1988: Sherlock Holmes - The Musical is a musical based on characters created by Sir Arthur Conan Doyle, with music, lyrics and book by Leslie Bricusse. It starred Ron Moody as Holmes and Derek Waring as Watson.
2007: The Hound of the Baskervilles was adapted by John Nicholson and Steve Canny with Javier Marzan as Sherlock Holmes. The production involves only 3 actors.
2013: Sherlock & Watson: Behind Closed Doors, is a short play by Darren Stewart-Jones that imagines a romantic involvement between the two characters.
Other theatrical adaptations
Sherlock Holmes and the Beast of Whitechapel

Sherlock Holmes and the Beast of Whitechapel was written by John Johnson and Lawrence Burgess for the Astral Theatre Collective. The play was produced in conjunction with acclaimed producer Adam Stover, CEO of DrakesNest Entertainment. It will begin touring in summer 2016, and stars John Johnson as Sherlock Holmes and Ronn Smith as John Watson.