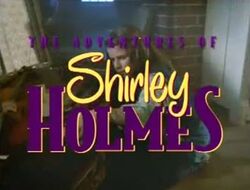 The Adventures of Shirley Holmes is a Canadian mystery TV series that ran for four seasons from 1996-1999. he series was created by Ellis Iddon and Phil Meagher.
The show has been broadcast in over 80 countries and has been dubbed in French, Spanish, Italian, Portuguese, German, Norwegian, Russian, Serbian, Polish and Turkish.
Credo spokesperson and producer Kim Todd named a growth spurt in the cast as one of the key reasons for cancelling the show. The aging of the actors would have meant a distinct change in tone and content had the show continued.
A tie in book was released in the United Kingdom titled "Shirley Holmes - The Essential Casefile". Thore was also a series of Shirley Holmes books which were adaptions to episodes of the television series.
Plot
The grand-niece of Sherlock Holmes, Shirley, lives in Canada and solves crime after local crime with the assistance of her  best friend, Bo Sawchuk, and meeting opposition from Molly Hardy. Shirley and the other teenage characters attend Sussex Academy, which is seen in many episodes.
Cast and characters
Main: Full list of Shirley Holmes characters
Family:
Teachers and Police:
Episodes
Season One
Season Two
Season Three
Season Four
Trivia
External Links
Community content is available under
CC-BY-SA
unless otherwise noted.