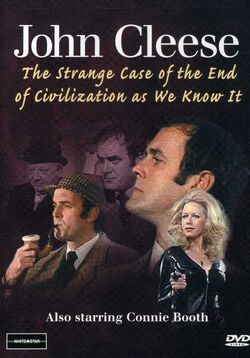 The Strange Case of the End of Civilization as We Know It is a slapstick farce parody of everything in the Sherlock Holmes canon, set in the 1970s.
Written by Jack Hobbs and John Cleese (of 'Monty Python' fame), it stars the latter as the grandson of the great detective, one Arthur Sherlock Holmes, now working with the bionic descendant of the original sidekick, and trying to hunt down the last of the Moriarty line. Cleese's wife at the time, Connie Booth, plays the housekeeper, Mrs Hudson.
Joss Ackland and Ron Moody both have fairly substantial supporting roles. The TV movie was essentially a pastiche of the cop dramas and pseudo-scientific series of the era.
Star Books published the screenplay in 1977.
See also
Community content is available under
CC-BY-SA
unless otherwise noted.